Looking for a greener way to travel? Executive Transfers offers a choice of green cars in premium models, so that you can enjoy luxury travel services while being kinder to the environment.
These vehicles are perfect for business travel, holiday transfers, and special occasions. For the environmentally conscious, they are the best choice for travelling sustainably without compromising on quality.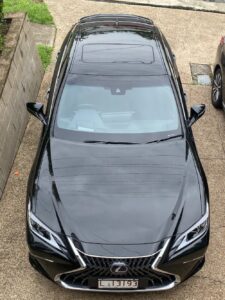 Lexus has been at the leading edge of hybrid vehicles for over a decade. They create luxury vehicles that harness the power of a traditional engine and combine it with the sustainability of an electric motor and self-charging battery.
The Lexus Hybrid is a sleek and beautiful vehicle, offering a smooth and comfortable ride. Guests can sit back and relax within the beautiful craftsmanship of the interior, which merges traditional Japanese design with modern luxury.
This spacious vehicle offers plenty of leg room for stretching out. The configurable cargo area allows for plenty of luggage, ideal for airport and hotel transfers. The comprehensive safety system ensures peace of mind while on the road.
Plus, the Lexus Hybrid features the latest technology, including voice-activated device control, fast-charging USB ports, Apple and Android integration, and an eight-speaker premium sound system.
Tesla
Tesla are the giants of the electric car industry. Their innovative solutions have been driving advances in technology for years. Tesla cars have the longest range and quickest acceleration of any electric vehicle.
Enjoy the clean and quiet environment of a Tesla interior. The car has been designed to offer the best in a relaxing ride, with active noise cancelling removing any road noise. Experience the ultimate in climate control, with tri-zone temperature controls, ventilated front seats and HEPA filtration.
It's easy to stay connected with multi-device Bluetooth, USB charging and wireless integration. The Tesla offers the ultimate in entertainment, with a 22 speaker, 960-watt audio system, and 17-inch display screen.
Our Green Car Service
Brisbane Executive Services are proud to offer two green car options to allow our clients to travel in style and with sustainability in mind. We offer a wide array of transport and transfer services, all delivered from the backseat of our comfortable and exceptional green cars. Book now for:
Contact Executive Transfers
For all enquiries, 24 hours a day, please call 1300 532 909. You can also contact us via our enquiry form.
Just remember: everything is easier from the backseat, so sit back, relax, and let Executive Transfers take care of everything.