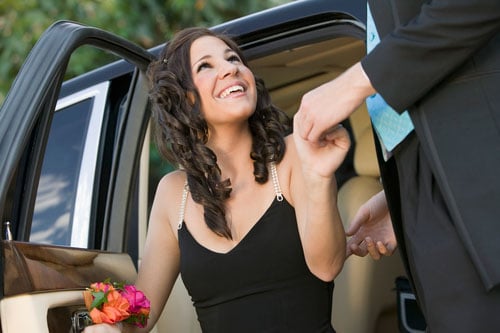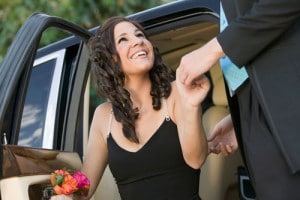 Let Executive Transfers make your school formal a night that you'll never forget.
All our luxurious vehicles are able to chauffeur you to your formal or debutante ball, and then take you from your formal to your after party or destination of choice. Along the way, our limos can take you and your friends on a sight seeing tour, complete with photo stops along the way.
Our driver will arrive prior to your departure time, giving you and your friends plenty of time to have photos taken inside the car, next to the car, and even standing out of the sunroof. They'll be plenty of time to satisfy all your selfie needs!
Finding the Perfect School Formal Car
Finding the perfect car for your formal or debutante ball usually depends upon the number of people in your party, how many hours you'll need the car and driver for, and how far you want to travel.
If your party is a big group, then a 20 person party bus might be your best bet. Unfortunately, Executive Transfers won't be able to help you with such a big vehicle. But if you're looking for a car for just a couple, or a small group of friends, then a classically stylish Mercedes or Audi might be the perfect fit.
In our luxuriously appointed cars, you'll be able to bask in the atmosphere of real leather upholstery, superior interiors, and enjoy added touches like mood lighting, TV screens, and iPod connectivity.
We specialise in all-important events like formals, and pride ourselves on ensuring that you have the best experience possible. We really will make you feel like the belle of the ball on this, your special night.
Formal Care Hire: Parents' FAQs
Here at Executive Transfers, we believe that it really is possible to combine style and sophistication for the kids, alongside safety and peace of mind for mum and dad. We make finding the perfect formal or debutante ball car a fun experience for everyone involved.
Our most important consideration in formal transportation is the safety of every single passenger in our cars. That's why we only employ drivers who are fully licenced, insured, and registered. The safety of your children is paramount when it comes to formals.
Book Your Formal Car Hire
Formal season is only just around the corner, so it's usually a good idea to start shopping around for your formal or debutante ball transportation well before you'll actually need it. When it comes to formals, many people book their cars or party buses months in advance. We suggest that you start researching service providers at least two months before your event.
Once you've selected the right transportation service provider, get confirmation in writing. Then ensure that you touch base, about a week before the event, just to make sure that all the details are confirmed.
Contact Executive Transfers today to book one of our luxurious cars for your next School Formal or Debutante Ball.