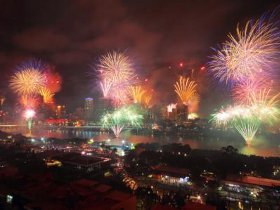 Brisbane is one of Australia's loveliest cities, with plenty to see and do for all kinds of travellers and residents alike. But, if you're new to the area, one of the things you may notice is that some areas of town can get very congested during special events. This makes traveling to special events a bit stressful for Brisbane residents and those visiting from out of town, too.
Navigating your way through traffic and finding a place to park can be especially difficult during certain events, like concerts at Riverstage in the Botanic Gardens, or fairs and events at the Queensland Mall. Business conferences can cause a lot of traffic, too, and can especially frustrating for visitors.
Navigating Brisbane Special Events
Rather than finding yourself frustrated by having to navigate and manoeuvre through all this traffic, consider using Executive Transfers for traveling to special events in Brisbane. Whether you're out for an evening of fun or in town for a business conference, Executive Transfers can handle all your transportation needs from airport transfers to your hotel to taking a big group out to dinner or a concert in style.
Using a limousine service like Executive Transfers offers the ultimate in flexibility. You use our cars only when you need them, so you're not spending money for a car every day of a trip unless you actually need it. And, using a car service is perfect when the size of your party differs at different times. Whether it's a simple date night for you and your spouse, or you're taking a big group out to dinner to celebrate a birthday, we can accommodate your entire party. And, when you're riding in a beautiful and comfortable limo, the party continues during the ride, which is something you often can't do when using your own personal vehicle.
But one of the best reasons to use Executive Transfers during Brisbane's special events is that you never have to worry about parking the car. Our drivers will pick you up at your office, home or hotel and drop you right at the venue. Then, you arrange the time for pickup and they'll come right back to get you. There's never any worry that you'll have difficulty parking or that it will take forever to get out of the parking lot when the event is over.
Special events are designed to be fun. But, when you are forced to sit in traffic for hours or fight for a parking space, attending these events is not nearly as enjoyable. But, a limousine ride from Executive Transfers can take away all the hassle and make those special events fun again. So, enjoy Brisbane's events in all their glory and without any additional stress.