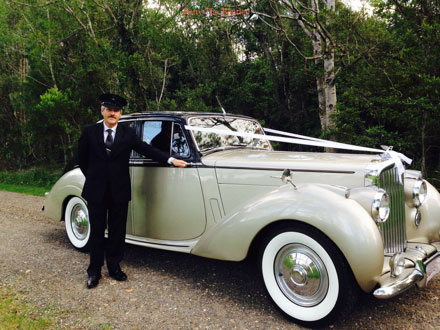 Everything about your wedding day should say "special". Each unique wedding gains its personality from the combination of choices the bride and groom make regarding the wedding and reception's details. And, while many brides and grooms focus heavily on the dress and venue, there are many other smaller details that have just as much impact on the overall style of your wedding. Paying attention to all the details, both large and small, can make your wedding truly reflective of your personality, your style and the special relationship between the two of you.
Stylish Transportation for Your Wedding
One of the many details you should not overlook is transportation to and from your wedding and reception venues. Arriving and leaving your wedding and reception in a beautiful limousine for hire is a wonderful way to make your special day even more special.
When you hire a limousine like those from Executive Transfers, you take the stress away from arriving and leaving your wedding venue. By hiring a limousine to also transport your entire wedding party, you help ensure that every member will be on time to the services. Executive Transfers can help keep your wedding party on schedule, which relieves your stress as a bride. And, having your wedding party picked up by one of Executive Transfers' beautiful cars makes each one of your attendants feel extra special. They're sure to appreciate the luxury and pampering you've given them by seeing to their transportation needs.
Riding in a limousine is a wonderful way to spend your day as a bride. It gives you a bit of extra time to reflect and enjoy your special moments even more. Many meaningful conversations are had by fathers and daughters on their ride to the church and by newlywed couples leaving their ceremony. These heartfelt conversations are even more memorable when they're held in a beautiful and comfortable limo. Your limo driver will even be happy to give you a nice drive through Brisbane's beautiful city center for a few extra minutes of quiet time on your way to your destination.

Budget is always a concern for today's brides and grooms. But, limousines for hire can actually be much more cost effective than you might imagine. And, with the benefit they provide in terms of scheduling, elegance and organization, their services always pay for themselves in the long run. Work with one of Executive Transfer's professional consultants to help you create the perfect transportation package that meets the needs and the budget of your wedding day.
Regardless of where in Brisbane your wedding is taking place, you can count on Executive Transfers to ensure that you and your wedding party will arrive in comfort and style.
Payment & Bookings Terms & Conditions
Client Testimonials:
Hi Adrian,

I wanted to take a moment to thank you for your services on our special day. My now-husband, Brett, and I have put a together a review and a thank you for being such an integral part of our wedding. Please feel free to use as you wish:

Executive Transfers were recommended to us and we found their services very reliable and accommodating to our needs. They communicated with us on a regular basis leading up to the wedding and were punctual on the day (even with a difficult to access pick-up venue). We hired two cars, and both drivers were very polite and professional. The cars were modern, clean and spacious. They made sure they placed as much value on our wedding day as we did. We cannot recommend highly enough. Kasia & Brett

Thanks again,

-Kasia & Brett
Thank you so much for your first class service. We would highly recommend you for any function.

Please thank all your drivers so professional in every way… 10 Out of 10.

Kind regards Yvonne and Tony Meeds.

Great, no fuss wedding cars. Nobody could see our cars with the set up of our venue and we are not really into cars… so this was a great affordable option so we could still have fancy transport to and from the wedding. Flexible and friendly.

Amy W

Prices

Mercedes E Class Sedan (Black)
4 hour package with car dressed, inc a complimentary bottle of Champagne $600

Mercedes MiniVan
4 hour package
$600 with complimentary bottle of Champagne

Mercedes Sprinter
$190/hr minimum 2 hour hire, with complimentary bottle of champagne and 2 if the car is booked for more that 4 hours

Request a Quote:

Thank you for your enquiry can you please advise the following details so that we can accurately quote your special day.

Please note: There is a minimum 3 hour hire for our vintage vehicles.