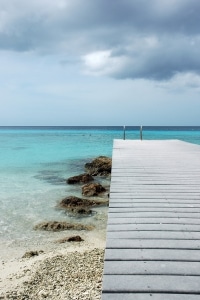 Exploring the world whilst trying to reduce your carbon footprint might seem a challenge, but a sustainable type of tourism, called Eco-tourism, allows globetrotters to do just that. With the importance of global warming growing every year, it's now more essential than ever to start travelling in a more sustainable way.
And where better than the beautiful continent of Australia, home to some of the most amazing Eco-accommodation the world has to offer. Eco resorts offer an Ecologically friendly alternative to the boutique hotel – combining sustainability with luxury; some even offer your own personal limo service!
When picking an Eco resort, make sure it's been awarded ECO Certification. This means that the hotel is environmentally, socially and Economically sustainable.  There are three levels of ECO Certification: Nature Tourism, Eco-tourism and Advanced Eco-tourism. Here are some of Australia's best Eco resorts that have been awarded the highest ECO Certification:
The picturesque resort of O'Reilly's is nestled on the edge of the World Heritage Lamington National Park. Its Rainforest Retreat, Villas and Lost World Spa have all been built with sustainability in mind, but it's most famous for its interpretative discovery program, which teaches its guests about the spectacular surrounding rainforest and mountain area.
Thala Beach Lodge was constructed on a private headland surrounded by vibrant rainforest and the exquisite Great Barrier Reef, is as serious about Ecology as it is about luxury and located just 1 hour north of Cairns. With its own private beach and sanctuary, the Thala Beach Lodge works to conserve its surroundings, allowing local wildlife to flourish.
Set in the world's oldest living rainforest, the award winning Daintree Eco Lodge and Spa describes itself as "a unique hideaway". Its guests stay in luxurious 'Bayans' (tree houses) that look out over the wild rainforest. The lodge offers guided tours of the area with local Aborigines, relaxing spa weekends and even an airport transfers service from Cairns airport.
The Kingfisher Bay Resort on Fraser Island prides itself on setting the benchmark for Eco tourism over twenty years ago. Its luxurious rooms sit lightly on the earth, without affecting the surrounding wildlife. You can relax in the magnificent surroundings or take advantage of the resort's chauffeured transport, with four-wheel drive tours of the local beauty spots.
Paradise Bay on the Whitsunday Islands offers just that – paradise. After arriving by helicopter, guests relax with a glass of champagne whilst looking out of the sparkling sea. During the day you can snorkel, go turtle spotting or just chill out with a cocktail. It's paradise with a sustainable twist.
Located on the edge of the Great Otway National Park, the vast grounds of Great Ocean Ecolodge are home to kangaroos, koalas and native birds. The breathtaking views mean guests don't even have to leave their bedrooms to experience the awe-inspiring local wildlife.
Tanonga, in South Australia, is set amongst a regenerating forest and offers a unique and sensitive experience. Guests have the opportunity to see some of Australia's rarest birdlife, who have been encouraged to the area by the careful replanting of the surrounding forest.
These are just some of our dream locations to visit; they are just a handful of the more well-known eco resorts in Australia.  There is much more available and we suggest checking out the full list on EcoTourism.org.au.