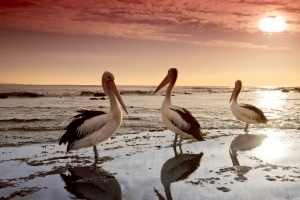 Few places offer the wealth and diversity of fishing like Australia. Whether you're looking for bustling harbour communities or sparsely populated islands, there's something for every style of fishing and these are just a few of the best fishing spots on offer in the country.
Game Fishing – Bermagui, NSW
The Bermagui River provides excellent game fishing opportunities with marlin and several species of tuna and shark up for grabs throughout most of the year. While the river may be at its liveliest when warm temperatures encourage a rise in bait fish such as pilchards and mackerel, the human population of the town and surround caravan parks never exceeds much more than 2,000.
Kayak Fishing – Blackwood River, WA
For some spring fishing there are few better spots in Western Australia than the Blackwood River, which is easily accessible from Bridgetown. Black Bream is the catch of the day along this stretch of river, although it's also stocked with rainbow trout. The fish here are strong, so you may need a 6lb line and 6lb leader to give yourself a fighting chance of success.
Game Fishing – Exmouth, WA
A place on a charted boat for a full day of game fishing starts at as little as $440, which includes the use of all the fishing gear you need. If you're the type of fisherman that likes things taken care of for you why not arrange a limo service to take you to this tranquil town straight from the airport? If you're after a great way to catch billfish, locals suggest a 'tease and switch' tactic is an effective yet thrilling method.
Reef Fishing – Cairns, QLD
If you don't want the isolation that some Australian fishing spots offer, Cairns is a fantastic location for reef fishing, especially since prices start at a very reasonable $190 for a full day charter. Reef fishing off the coast provides opportunities to catch magnificent coral trout, nannygai and sweetlip. Chartered boats are available from Cairns itself, although you can save yourself a bit of money by taking a boat from nearby Port Douglas instead. While heavy hand lines are recommended, although effective fishing with a rod and reel isn't out of the question.
Shore fishing – Hearsons Cove, Karratha
Hearsons Cove is half an hour from Karratha and is a beautiful place if you fancy barbecuing those fish you land. While there's plenty of bream to catch, the cove isn't overpopulated with fishermen as it's only fishable at high tide, and finding your way here can be tricky. If you're unsure about where this relatively hidden gem is, chauffeured transport here is your best bet – it'll also allow you to relax with a couple of beers.
Gulf fishing charters – Sweers Island, QLD
If you eat, sleep and breathe fishing there's perhaps no better place to be than Sweers Island, a 7km long island with rock reef in abundance. Over two dozen species of fish are regularly caught at Sweers Island including barramundi and red emperors. An airport transfer from one of Australia's main transport hubs to the island's tiny airport is the best way to get here. $350 a night includes accommodation, meals, boat charters and plenty of fishing equipment.
Bay Fishing – Port Lincoln, SA
Fishing at Port Lincoln is great all year for snapper, salmon, garfish and other species, although if you're after kingfish you'll need to be here from late spring to summer. Some of the best areas to fish in are in the National Parks, but you need entry permits to get here. As with many of Australia's best fishing spots local knowledge is priceless – someone that can act as a tour guide can make a tremendous difference.
Trout fishing – Snowy Mountains, NSW
Renowned as New South Wales' top fishing region, the Snowies is perfect for fly or bait lure. The Thredbo and Snowy River are full of activity from October to June while Lake Jindabyne and Lake Eucumbene are just two spots that are fantastic all year round. To make the most out of this fishing paradise sign up to one of the local fishing tours – a private one day tour will set you back about $650.
Barramundi Fishing – Melville Island, NT
Melville Island is one of the most exclusive spots for fishing in Australia – there are only a few fishing lodges here and one accommodates a maximum of 18 people at any one time. The barramundi here are big and bite all year long, although a week's fishing doesn't come cheap, starting at just under $7,000 – however, that does include airport transfers to and from the island as well as quality fishing tackle.