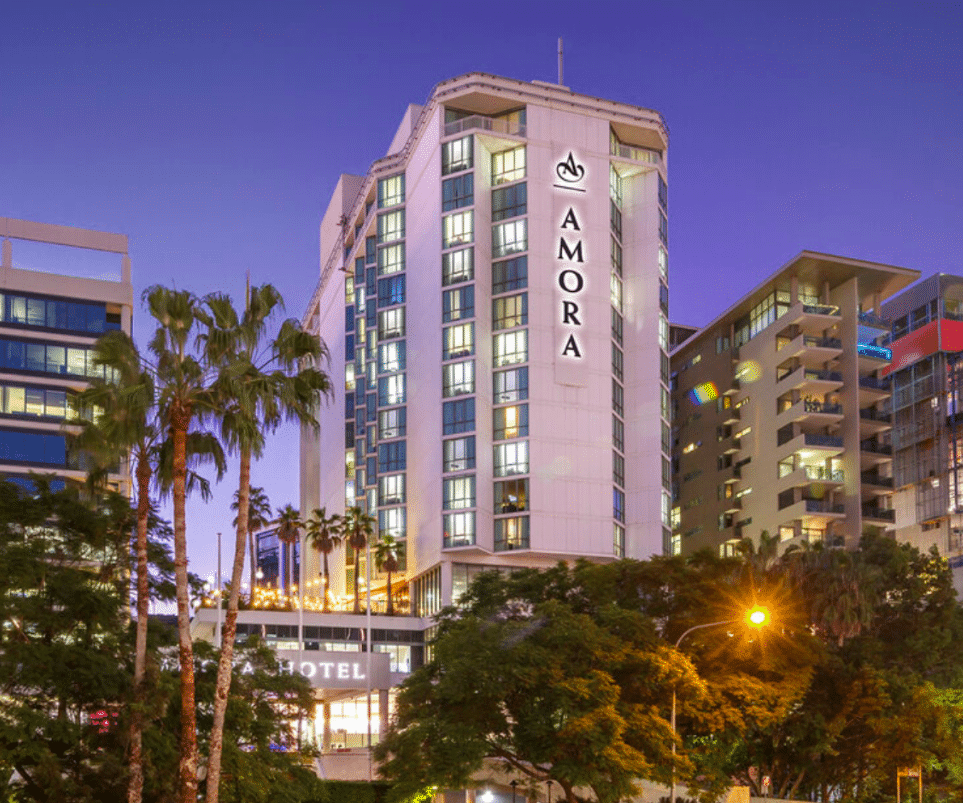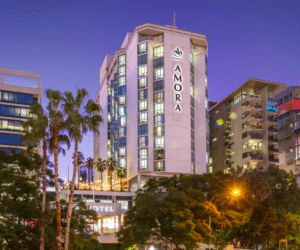 Are you on the search for a hotel in central Brisbane? Our friends at the Amora Hotel would be delighted to host you, your colleagues, or family in Brisbane.
As a 4.5 star hotel in the middle of the city, Amora Hotel is our preferred option for elegance, style and convenience.
This spacious hotel boasts 296 rooms, which are designed for executive travellers and people on the go.
Once you step inside, you will be greeted by the hotel's friendly staff who are standing by to assist you in any way.
The hotel's modern interior offers plenty of natural light and space to sit back and relax after a busy day at the office, or before a conference dinner and networking event.
What Makes Amora Hotel So Special?
The Amora Hotel's experienced team are committed to warmth, engaging service and a standard that is unmatched by other hotels in Brisbane.
The hotel is a quick walk from Central Railway Station and Queen Street Mall, which places you in the perfect location to explore and walk the beautiful streets of Brisbane.
Guests are also close to the Howard Smith Wharves entertainment and dining precinct, which offers some of the best culinary delights on offer in Brisbane.
These world-class restaurants, bars and cafes are a sure-fire winner for all executives who need a moment to rewind and reconnect.
What Can I Expect?
At Amora Hotel, you're guaranteed a high-end experience. Guests have the option to select from Standard King and Double Rooms, which offer sleek and comfortable amenities for a range of travellers.
If you are seeking something a little bit more unique, Amora Hotel's Premier Rooms and Executive Suites will blow you away. These rooms are positioned at the top of the hotel and offer extraordinary views of Brisbane and its surroundings.
The Executive Suite includes a king balcony, a separate kitchen and dining area, plus a spa bath.
The hotel also offers 11 function spaces, which can accommodate events between two and 280 guests. These spaces include the latest audio-visual equipment and technical support from an experienced team.
If you are travelling for a conference, Amora Hotel offers quality food and beverage packages with complimentary Wi-Fi for all hotel guests.
Take A Ride to The Hotel
Executive Transfers is the number one option for all hotel transfers.
Our team knows the streets of Brisbane like the back of their hands. This means you can feel confident that you will arrive at your conference or event ahead of time.
Whether you are travelling to Amora Hotel, or other venues across Brisbane, lock in our experienced team of chauffeurs for the best experience.
Book Today
If you like the sound of Amora Hotel, book online today.
If you wish to book Executive Transfers' premium services, please get in touch.