Executive Transfers is proud to announce that we now offer eco friendly cars for more environmentally conscious transport. Our environmentally friendly car options allow you to travel more sustainably while still enjoying the premium, quality experience you expect from our services.
These vehicles are perfect for business travel, holiday transfers, and special occasions. For the environmentally conscious, they are the best choice for travelling sustainably without compromising on quality.
What are Eco Friendly Cars?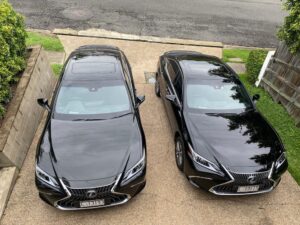 Eco friendly cars are vehicles that produce less emissions and pollution that traditional fuel-burning models. They include hybrid and electric cars.
Hybrid vehicles use both an electric engine and battery technology combined with a petrol engine. These cars require far less fuel consumption and are better for the environment.
Electric vehicles are powered by an electric engine and a battery. They are recharged at electric charging stations and emit no pollution while driving.
The Rise of Greener Car Options
Environmentally-friendly cars such as hybrid and electric vehicles have been around longer than you may realise. In fact, the first every electric car was developed in the United States in 1890. However, fuel-powered vehicles have been the predominant car of choice for most consumers for the past century.
This has slowly been changing in the last twenty years. Today, there are over three million electric cars operating around the world. Big name luxury car brands have begun developing electric and hybrid models, and new players in the market have developed high-tech transport solutions that are more environmentally conscious.
In Australia, electric cars are growing in popularity. The first electric car became available for purchase with the 2008 release of a Tesla. In 2019, 6718 electric vehicles and plug-in hybrid vehicles were sold – triple the number of similar cars sold the previous year.
Sustainability without Compromising on Quality
If you're looking for an indulgent and luxurious transport experience, you can enjoy it in an eco friendly car. Today's electric and hybrid models come fitted with the best in entertainment, comfort and safely technology for a smooth and enjoyable ride. Sit back and relax in climate controlled environments and modern designed interiors, and enjoy the highest quality in-car entertainment options.
Our Environmentally Friendly Cars
Executive Transfers offer two beautiful and sustainable environmentally friendly car options for those looking for a greener alternative for travel.
Lexus Hybrid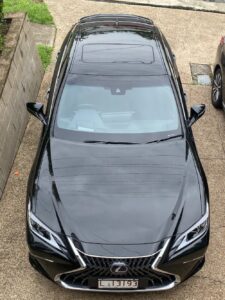 The pinnacle of luxury hybrid vehicles, the stunning Lexus Hybrid offers the perfect mix of indulgence and sustainability. This car harnesses the power of a traditional fuel engine and combines it with a self-charging battery and electric motor for a cleaner, greener drive.
The Japanese aesthetic of Lexus vehicles is showcased in the exquisitely crafted interior of the car, with modern luxurious touches and a completely comfortable ride. The sleek body is sure to turn heads on the road as your cruise to your destination.
The spacious back seat features additional leg room and the cargo area is smartly configurable for extra luggage, making this car a perfect choice for holidays and transfers to the airport.
The Lexus Hybrid provides the best in on-road entertainment and technology, including Apple and Android integration, voice-activated device control, fast-charging USB ports and an eight-speaker premium sound system.
You will feel entirely safe and secure when being driven in a Lexus vehicle, with a comprehensive safety system.
Tesla
The introduction of Tesla forever changed the trajectory of electric vehicles, offering a state-of-the-art luxury experience without the need for a fuel-burning engine. Tesla remains the most popular electric car in Australia, and their cars have the longest range and fastest acceleration of any electric vehicle on the market.
Travelling in a Tesla, you will experience the complete quiet of the interior of an electric car. Active noise cancelling technology removes any road noise, creating a more peaceful ride for passengers.
Tesla cars use lithium batteries to prevent the emission of greenhouse gases from the vehicle, for a cleaner and more environmentally friendly option.
They are packed with the latest technology, including wireless integration, multi-device Bluetooth, USB charging and high-quality entertainment systems. The audio system features 22 speakers and 960 watts. There is also a 17-inch display screen for passengers to enjoy.
The car is extremely comfortable, with climate control, tri-zone temperature controls and ventilated front seats. It is also fitted with HEPA filtration for cleaner air in the interior.
Transport in an Eco Friendly Car
Our greener car options are ideal for all sorts of travel. Whether you're looking for a stylish option for an event or holiday, or a highly functional vehicle for conferences and corporate transfers, our cars are the best choice for you.
Choose the Lexus Hybrid or the Tesla for travel to the airport, to work functions, to weddings and while on vacation. These premium vehicles are perfect for any occasion.